A young man withdraws hundreds of dollars with his ATM card, then vanishes.
CASE DETAILS
On June 8, 1988, in Los Angeles, 22-year-old Matthew Chase returned from dinner with his roommate, Teresa Dahl. That night, Chase remembered that he needed to deposit his pay check. Teresa lent Matt her car and asked if he could pick up some cat food on the way home:
"It should have taken Matt approximately 10, 15 minutes to run the errand. The bank was about two blocks from our home and normally he walked. And that particular evening, he'd taken my car so at the most 15 minutes would be sufficient."
But by the next morning, Matt still had not come home. Teresa and their other roommate, Steve, called the bank, pretending to be Matt. They wanted to find out if he had used his bank card the night before. The bank said he had—several times. Steve and Teresa then called the police. Scott Burkhart of the Los Angeles Police Department was the lead investigator on the case:
"A light came on, indicating that this is not going to be a normal, run of the mill case. It's going to be something that requires some in-depth investigation. And it may not turn out to be a good case, as we call them. When we reviewed the bank records, it indicated that he made a successful deposit of a paycheck, received cash back, and then returned to the same branch approximately 30 minutes later, and attempted to withdraw $280 which he knows is over the amount of cash he can receive per day. The theory there would be that either he was being forced to attempt to withdraw these amounts, or he was signaling to the bank, to the computer for help."
That same night, two more attempts were made to withdraw cash. The first was for $200. It was refused because of insufficient funds. Then, a minute later, $100 was requested. Since Matt's paycheck had not yet been posted, this amount was also refused. Only eleven minutes later, the card was used at another branch in a different neighborhood. Again, the withdrawals were unsuccessful. But according to Burkhart, this time a hidden camera took pictures and showed a strange man standing over Matt's right shoulder:
"According to these surveillance cameras at the branch, the person standing next to Matt was somewhat shorter, somewhat stockier, and overall, he shouldn't have been in the photograph. No one is going to let someone stand that close to him while they use an ATM machine where they can see the PIN number."
Police suspect that Matt may have been abducted by the man in the photograph while he was making his first transactions. Then, in an attempt to call for help, they speculate Matt may have deliberately entered erroneous amounts, hoping to attract attention. Over the next day and a half, there were five more withdrawal attempts. By this time, Matt's paycheck had cleared, so $400 was withdrawn from his account. Finally, the card was confiscated by the machine. But when the card was dusted for prints, none were found. Police believed that either the card was wiped clean or that Matt's abductor used gloves.
Upon hearing of their son's disappearance, Matt's mother and father came down from Oregon to search for their son and for the car he drove to the bank that night. According to Matt's father Frank Chase, they were initially hopeful:
"At first… I think, that we were going to stumble onto the car somewhere in the near proximity of where they live. I believe, after a couple, three nights of doing this we became very frustrated."
Police had no immediate answers. An attack might have left Matt injured, abducted or even worse. Undeterred, Matt's roommate, Steve Dahl, began distributing his picture at a local rescue mission:
"I talked to several of the people there, and a couple of the volunteers that worked at the midnight mission said, when I showed them, just his drivers license, because I'd run out of posters, said, Oh yes, we have seen him. He's been in here several times eating… They started to describe him to me and they said, he's very tall and thin, isn't he, and very lanky? And I said, yes, exactly. And for them to get that from one of those tiny pictures from a driver's license, is really miraculous. And we thought well, wow, they really have seen him and we thought we were just so close to finding him at that point."
On June 27th, almost three weeks after Matt's disappearance, the car he had been driving was finally found. According to Scott Burkhart, the abandoned car was in a close proximity to where he had vanished:
"When they found that car, they ran the license plates… and it indicated that it is associated with a missing person, and I wanted the vehicle held for latent fingerprints. They dusted it for fingerprints, looked at it for other evidence of a crime, and the car was completely void of fingerprints."
Police found only one clue in the car—a blue bandana. The bandana did not belong to either Matt or Teresa. Investigators believe that the blue bandana may have belonged to Matt's abductor.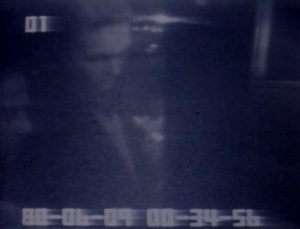 Update:
Three months after he disappeared, the remains of Matt Chase were discovered in a ravine in nearby Pasadena. The cause of death was a gunshot wound.
In 2018, the LAPD cleared Matthew's case. A member of Matthew's family said that they feel confident that Matthew's killer was David "Bear" Meza, who died the day after Matthew disappeared. Although there is still the possibility that Meza had accomplices, the family is grateful for some closure.
---
Watch this case now on Amazon Prime in season one with Robert Stack and season five with Dennis Farina. Also available on YouTube with Dennis Farina. Various seasons available now on Hulu.
SUBMIT A TIP